Fasch Project Documentation
Text, Audio, Video
---
---
Articles
---
---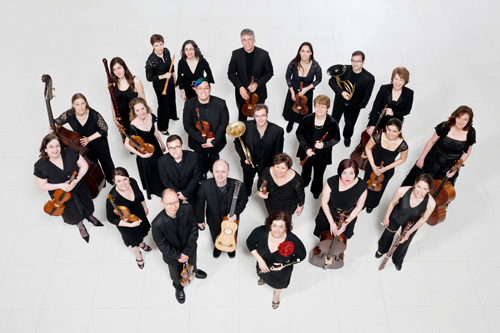 FEATURE, 2007
Bringing Back the Fantastic Herr Fasch
newsletter feature for our first all-Fasch concert (January 2007)

by Anne Hunter
---
Pity other composers born in Bach's century. After his death, Bach dominated perceptions of baroque music to such an extent that everyone else stood in six degrees of separation from him. Telemann's chief claim to fame for centuries was being the guy who turned down a great job that eventually went to Bach.
Our virtually-forgotten Johann Friedrich Fasch could claim the same backhanded fame. He turned that job down, too (Bach was at best fourth choice for Kantor at the Thomasschule in Leipzig). Fasch was well known in his time. His music was in hot demand by the best orchestras in Europe: Dresden, Vienna, Prague. He was esteemed and highly productive. He was a major player in the baroque music world.
So how did he get to be the best baroque composer you never heard of? It's partly Bach's long shadow over his contemporaries, hindering other revivals. Vivaldi and Telemann came back in the twentieth century, but by the time Fasch's turn came around, his music was gone. Not published in his lifetime, it exists only in manuscript. Unique, fragile, scattered and neglected, Fasch's manuscripts deteriorated and disappeared over the years.
The Allied bombing of Dresden in 1945 practically destroyed a major cache. "They tried to save treasures in underground vaults," says Richard Stone, Tempesta di Mare Co-Director, who is preparing Fasch editions for European publisher Prima la Musica. "But Dresden's a river city. The vaults flooded."
He holds up a photographed page of a manuscript. The notes stand out against nothing, because the staff lines are completely washed away. "It's a good thing Fasch used quality ink for the notes. The trick is figuring out where the lines are supposed to hit them." And that's one of the better sheets, saved through heroic conservation work by the present-day Saxon State and University Library.
"Only a tiny fraction of Fasch's music still exists," says Barbara Reul, a Fasch scholar and Assistant Professor of Musicology, Luther College, University of Regina, Canada. Some instrumental works remain, but only a tenth of one thousand cantatas. All of the operas are gone.
What's left is enough to make any music lover salivate, though. "Fasch is in the same world as Handel and Telemann, but he uses the musical materials in his own way. His music is so new and fresh," says Reul, "like a great new recipe—same ingredients, but an entirely different flavor."
Stone compares Fasch to Handel, too. "If you like Handel's Water Music, you'll love this," says Stone about Fasch's Ouverture Grosso in D." Like Water Music, it has great melodies, vivid instrumental color and timbre, and lots of flashy passages for flutes, horns and reeds.
Although Fasch is sometimes described as a forerunner to composers of the classical era, Stone feels you can't pigeonhole an original. "You really get the feeling that he was inventing his own musical language. It's baroque," Stone says, "but there's something different, something distinctively Fasch. Fasch really goes in his own direction."
Fasch appreciation is growing. When the well-known English orchestra leader Trevor Pinnock released a Fasch recording in 1995, it was practically an unprecedented event. But now recordings are burgeoning, to which Tempesta di Mare's Chandos CD of modern world premieres will be an important addition. There is an International Fasch Society (www.fasch.net). Scholars such as Barbara Reul, Brian Clark and others are combing the archives of Europe to find more Fasch. New editions are emerging.
"There's more out there," says Barbara Reul, happily. "I'll be doing Fasch to the day I die and loving every minute of it."
Anne Hunter, Contributing Editor,
is a writer and art historian
living in Philadelphia.
---
---

RESTORATION, 2008
Performing Editions from War-Damaged Manuscripts

excerpted from 2008 program notes

by Richard Stone and Gwyn Roberts
---
Last season, when we premiered four pieces by Fasch on this series, we mentioned that it was difficult to describe the feeling of discovering music that's not just new and outstanding, but which is also full of out-of-the-blue surprises that exceed one's most optimistic expectations. That is what it was been like to transcribe these Fasch manuscripts, to hear them for the first time in centuries, and to spot a unique voice among High Baroque composers, whose quality of work is right up there with Bach, Telemann and Handel.
This summer, we also had the good fortune of going to Dresden to examine the manuscripts first hand. Maybe it's corny, but touching the same paper that Fasch and his concertmaster Pisendel wrote on gave the process of bringing all these new-to-modern-ears pieces to this series an extra frisson.
When we first started looking at the manuscripts from Dresden three seasons back, we recognized one reason why Fasch is less well known today than he could be. The major source of some of his most adventurous compositions, the holdings of the Dresden library, was badly damaged during the Second World War. Despite the best efforts by archivists to protect the collection by moving it to an underground vault, percussions from the bombings caused the foundations to crack, allowing groundwater to seep in and flood the vault. Many historic items—including music by Fasch—were damaged or destroyed by mold or ink corrosion.
Here is an illustration of some of the damage. This image comes from a high-resolution photo. You'll notice that there are notes galore, but the staff lines can become impossible to discern.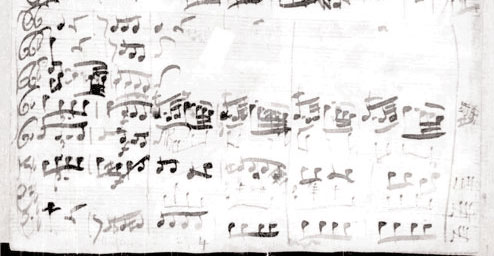 Fasch: Concerto in F, FWV L:F3
The ink of those lines got washed away in the flooding. Since they were drawn by hand with a five-tip pen, they are not necessarily straight, so you can't just figure out where the lines should begin and end and then overlay new staves to see where the notes lie. Luckily, though, there is almost enough information in the digitized picture to be able to enhance the lines with graphics software.
In fact, the illustration above shows a bit of the music that opens tonight's program, the single movement Concerto in F. There are two versions, both in the Dresden library. One is this water-damaged original in Fasch's own hand, which is fragmentary and runs out of music about halfway through, the remainder presumably lost or destroyed. The other is an incomplete set of partbooks in a copyist's hand which contains the full length of the movement. Both versions are similar enough to have made it possible for us to reconstruct the complete piece.
In his day, Fasch was especially famous for his orchestral suites, a sequence consisting largely of French dances—e.g., bourées, minuets, gigues, etc.—that typically begins with an overture movement. Bach's four orchestral suites and Handel's Water Music, are just two famous examples of this popular form, though the Handel suites lack the ouverture. Grove Music Online, the world's leading music encyclopedia, lists 87 orchestral suites by Fasch.
The manuscript partbooks from which we transcribed this [Suite in F] have identical material for both the oboes and flutes for great stretches of the work, including in the solos. When it comes to the wind solos, one would imagine they would be either for the flutes or for the oboes, but not for both at the same time. This is a problem which the Dresden concertmaster Johann Georg Pisendel, who championed Fasch's music at Dresden, solved for us. Pisendel noted in his own partbook when the solos should go to flutes, and when to oboes. We are happy to follow the judgment of the concertmaster who led this suite's eighteenth-century premiere, and we perform the woodwind solos as he specified.
---
---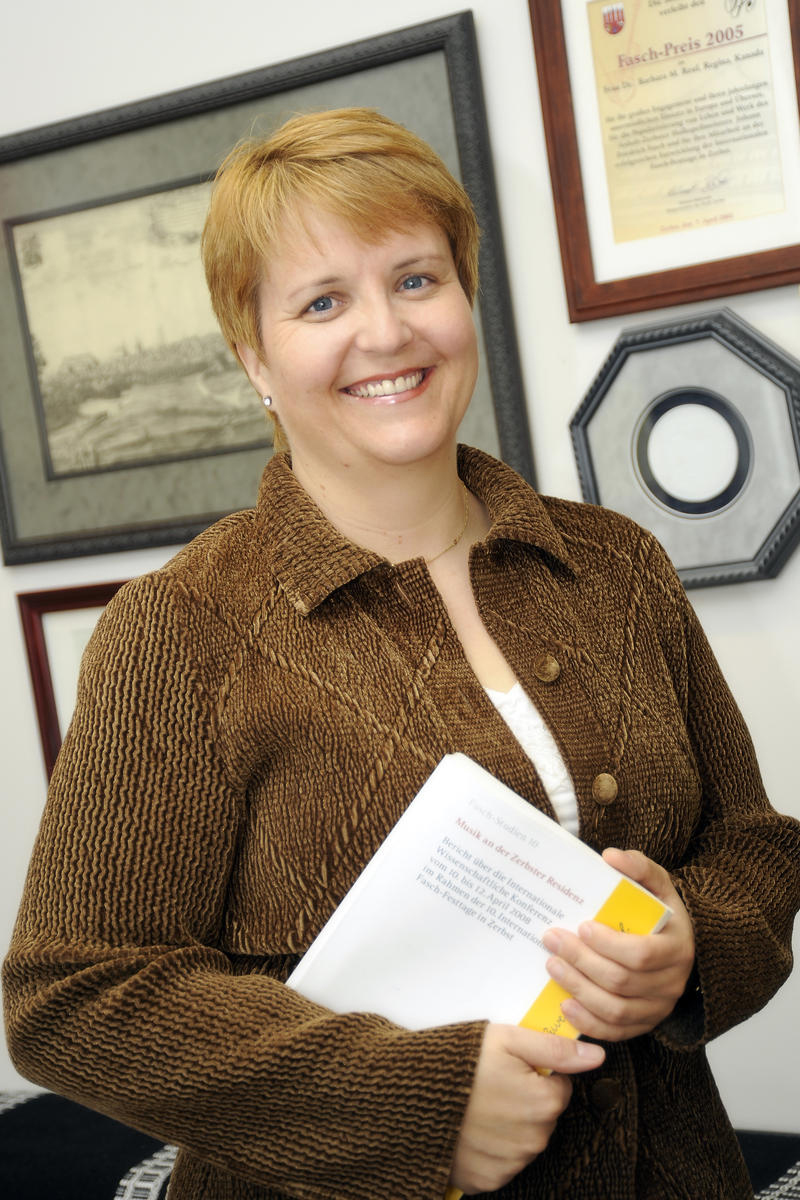 INTERVIEW, 2008
Always Surprises in Fasch

Barbara Reul, guest speaker and Fasch scholar

by Anne Hunter
---
Barbara Reul just got back from an international Fasch conference in Germany and she's still agog.
Johann Friedrich Fasch studies are in such a state of explosion that during the conference, discovery of a brand-new Fasch trio sonata was announced and rushed to the table. To say nothing of two weeks of packed concerts and a whole bunch of scholarly papers delving wider and deeper into an increasingly fascinating and pivotal musical personality.
To top it off, Chandos was able to deliver Tempesta di Mare's new Fasch recording hot off the presses for everyone at the conference to admire. "Very, very, very cool," says Barbara Reul, one of the world's distinguished authorities on Fasch.
Reul, a musicologist, became aware of Fasch in the early 'nineties when she was at the University of Victoria, British Columbia, studying his friend Telemann. Fasch was pretty obscure then. "All I knew was that he wrote a lovely trumpet concerto," says Reul.
What a difference a little time makes. "I fell in love and I'm still in love with Fasch," says Reul. "There are always surprises in Fasch." Reul is practically synonymous with Fasch now, as a scholar, organizer, President-elect of the International Fasch Society, and in 2005, the first scholar outside Europe to receive the City of Zerbst's International Fasch Prize.
And Fasch has regained a large presence in the landscape of eighteenth-century music. New discoveries of old manuscripts and a new generation of scholars and performers rabid to get hold of them make this an exciting time for Fasch. Significant works are under recovery from war damage in Dresden, including those that Tempesta di Mare will be presenting on May 16 and 17. Fasch is also well represented in the Berlin Sing-Akademie collection, the fabled treasure-trove of Baroque scores that was looted by the Soviet Army in World War II but recently repatriated to Berlin.
Papers presented at the conference last month explored insider topics like the strong relationship between Fasch and the Dresden Hofkapelle (the Berlin Philharmonic of its time). But Fasch has entered the wider culture, too. Prominent playwright Itamar Moses (The Four of Us) wrote a fictional but fact-based Fasch into his play Bach at Leipzig, which premiered off-Broadway in 2005. Moses portrays Fasch as an outwardly conventional character who is nonetheless restless and questing at the boundaries of his music and beliefs.
Which doesn't seem far off from the complex figure of Fasch emerging under study: a Pietist who wrote lots of operatic-sounding sacred music, a visionary who kept his employers happy, an artist whose creativity and fame flourished in the small principality of Zerbst.
Reul can relate to living happily out of the mainstream. Her own home is on the great Canadian prairies of Saskatchewan, where she teaches at Luther College, University of Regina, 4,000 miles away from Fasch's Germany. German-born, but a resident of Canada since she was a teenager, Reul jumped at the chance to move to the plains.
"There are just too many tall buildings in Europe! I get back to Europe at least once a year for my annual Fasch fix, but I love teaching here in Regina," she says on the phone. "I love space. When I first moved here, I would just spend hours lying on my back in the park, looking up."
Saskatchewan's license plates carry the motto "Land of Living Skies." Considering the wide horizons stretching before Barbara Reul and her fellow scholars, that could be a motto for Fasch studies, too.
Anne Hunter, Contributing Editor,
is a writer and art historian
living in Philadelphia.
---
---
Video
---
---
Johann Friedrich Fasch: Ouverture, from Suite in A Minor, FWV K:a1
performed on our Philadelphia series, March 2011
---
video travelogue of Tempesta di Mare's tour to Germany, 2011
background music: Johann Friedrich Fasch: Gavotte, from Suite in F, FWV K:F1
recorded on our Philadelphia series, May 2008
---
---
Audio
---
---
Aria en pologneise
from Ouverture grosso in D, FWV K:D8

Chandos 0751 (2008)

Allegro
from Symphonia in G Minor, FWV M:g1

Chandos 0783 (2011)
Ouverture
from Ouverture in D, FWV K:D2

Chandos 0791 (2012)
blank spacer row
Aria andante
from Concerto in B flat, FWV L:B3

Chandos 0751 (2008)
Air un poco allegro
from Concerto in G, FWV L:G13

Chandos 0783 (2011)
Andante
from Lute Concerto, FWV L:d1

Chandos 0791 (2012)
blank spacer row
---
---
High-Res Images
---
---
Select thumbnail to download high-quality image.


Tempesta di Mare — overhead
Philadelphia Baroque Orchestra
credit: Andrew Kahl
Tempesta di Mare — front-on
Philadelphia Baroque Orchestra
credit: Andrew Kahl
Tempesta in Germany, candid
Philadelphia Baroque Orchestra
credit: Ulrike Shapiro
blank spacer row
Gwyn Roberts & Richard Stone
Co-Directors, Tempesta di Mare
credit: Andrew Kahl
Gwyn Roberts
Director, Tempesta di Mare
credit: Andrew Kahl
Richard Stone
Director, Tempesta di Mare
credit: Andrew Kahl
blank spacer row
Dr. Barbara Reul
Past-President, Int'l Fasch Society
credit: Luther Coll., U. of Regina
Brian Clark, publisher
Prima la Musica! editions
credit:
Fasch: Concerto in F, FWV L:F3
detail illstrating of water damage
credit: SLUB, Dresden
blank spacer row
Fasch CD 1 (2008)
Chandos 0751

Fasch CD 2 (2011)
Chandos 0783

Fasch CD 3 (2012)
Chandos 0791

---
---
Select Reviews
---
---
for CD 3:
"Tempesta's ongoing survey of Fasch's instrumental music continues the ensemble's compelling project of bringing to the public's attention the works of an unfairly overlooked Baroque master. The ouvertures and concerti performed on Volume 3 are masterfully conceived and eloquently delineated. Fasch's sense of melody and scoring is exemplary The acoustics of the Presbyterian Church of Chestnut Hill are nigh on perfect for Tempesta's gut-strung strings, wooden woodwinds and period brass: enveloping their sounds with supportive resonance yet enabling their bright colors to shine forth. Hearing the CD easily enables the listener to imagine the aristocratic salons in which the music was first heard. Tempesta's leaders — Gwyn Roberts, Richard Stone and Emlyn Ngai — preside over splendid renditions of virtuosic technique and suave interpretations." Chestnut Hill LOCAL, September 2012
---
" ★★★★★ The Philadelphia-based ensemble Tempesta di Mare is to be commended for their efforts in resurrecting interest in the fine German composer Johann Friedrich Fasch. If you don't know Fasch, you ought to. A contemporary of Bach, Fasch's music is deliciously robust, never predictable, filled with catchy melodies and laced with interesting rhythmic and harmonic turns. This is music that will certainly appeal to fans of Handel's Water Music, Telemann's Tafelmusik and the Bach Orchestral Suites. The all-around excellence of these performances will do much to prove that there are some talented period instrument performers on our side of the Atlantic. Tempesta di Mare has been making gorgeous Baroque music for a decade and is the only American group to record on the English Chandos label. This wonderful Fasch album shows us why." Ariama, September 2012.
---
for CD 2:
"It is full of vitality and elegance, not to mention a stylishness that is difficult to equal, let along surpass. The recordings are actual concert performances from 2010 and 2011 and are cloaked in the wonderful sonic aura of the Presbyterian Church, Chestnut Hill, Philadelphia. Now a decade old, Tempesta is one of America's great period-instrument bands. They are regular visitors to American Public Media's Performance Today, heard nationwide on NPR, and both of their recordings should be a part of your collection." Fanfare, March/April 2012.
---
CD Pick of the Week, Classical WETA (Washington) — week of January 2. WETA, January 2012.
---
"Their recording reflects the enthusiasm for an unrecognized work, which they now introduce with pithiness, freshness, and sensitivity. Tempesta di Mare proves spectacularly how richly-colored one can play on baroque instruments. The worthy booklet accompanying the second Fasch CD von Tempesta di Mare makes this a wonderful present for those people who are convinced they have heard everything already, and who will most certainly be in for a surprise: about a wrongly forgotten composer, and about a splendidly tight baroque ensemble from the New World." — Music & Interpretation: ★★★★★ — Codaex (Germany), December 2011.
---
CD of the Week — "The playing of Fasch on this CD by the musicians of Tempesta di Mare is exceptionally lively and inspired, which makes you yearn for more." MDR-Figaro (Central German Radio, website review), December 2011.
---
for CD 1:
5 Stars: "The live concert recording radiates a tangible sense of joy and civilized charm. Dance-like movements that feature graceful string passages, mellow horns, sweet oboes and soft flutes, create an appealing courtly atmosphere. Tempesta di Mare's playing is never less than lovely, and I particularly enjoyed the flutes and oboes in the opening Allegro of the Concerto in D. The "Aria en Pologneise" that concludes the Ouverture Grosso in D epitomises these good-natured and lovingly crafted performances." Goldberg Magazine (Pamplona), August 5, 2008.
---
"The American group, Tempesta di Mare from Philadelphia, keeps an easy dance character in this music that strikes an attractive balance between free interpretation and strict baroque dance rhythms. Fasch's music is clearly beautiful enough to merit rediscovery." Kwadratuur (Belgium), September 2008.
---
"J.F. Fasch would be a much more famous composer today if a large number of his manuscripts hadn't been destroyed in the bombing of Dresden during WWII. However, some of them did survive, and this wonderful disc of four never-before-recorded orchestral works is one result. The Philadelphia-based Tempesta di Mare orchestra (on period instruments) plays with both accuracy and passionate excitement. Very highly recommended." CD Hotlist: New Releases for Libraries, June, 2008.
---
---
Participants
---
---
Tempesta di Mare performs baroque music on baroque instruments with what the Philadelphia City Paper describes as "zest and virtuosity that transcends style and instrumentation." Led by directors Gwyn Roberts and Richard Stone with concertmaster Emlyn Ngai, Tempesta's repertoire ranges from staged opera with full orchestra to chamber music. The group performs all orchestral repertoire without a conductor, as was the practice when this music was new. Tempesta di Mare is named for baroque master Antonio Vivaldi's concerto meaning "storm at sea," a title reflecting music's power to evoke drama.
Hailed by the Philadelphia Inquirer for its "off-the-grid chic factor," Tempesta's Greater Philadelphia Concert Series has enjoyed a rapid rise to prominence since its launch in 2002, with press endorsements from Philadelphia to Paris. The ensemble has brought numerous modern world, national and regional premieres to the area and is supported by such funders as the Pew Charitable Trusts, the William Penn Foundation and the National Endowment for the Arts.
In a market dominated by European ensembles, Tempesta di Mare is the first and only American baroque music group to record for the prestigious British label Chandos. Our latest CD, Fasch Orchestral Works, Volume 2, released in November 2011, is receiving 5-star ratings and features as CD-of-the-week, both here and abroad. Our 2009 release, Scarlatti: Cantatas & Chamber Music with soprano Clara Rottsolk, was lauded by Gramophone as "unflaggingly attractive, revealing one beautifully crafted aria after another." Our third CD, Fasch Orchestral Music (2008), an all-premieres disc recorded live on our Greater Philadelphia Concert Series, has garnered enthusiastic reviews at home and abroad. Goldberg magazine (Spain) gave the disc its top, 5-star rating, while Fanfare (US) described the performances as "fresh, vibrant and spontaneous, representing the perfect marriage between musical instinct and meticulous scholarship." London's Sunday Times named our second Chandos release, Flaming Rose, Handel's German Arias with soprano Julianne Baird, (2007) "Classical CD of the Week." Our 2004 Chandos debut is the acclaimed world-premiere recording of the complete lute concerti of Silvius Leopold Weiss. Chandos has now invited Tempesta di Mare to produce a new CD each year. A third Fasch recording is scheduled for release in the early autumn of 2012.
Tempesta has toured from Oregon to Prague and is represented by MCM Arts and Entertainment. Recent touring concerts of chamber music include the famed Göttingen Handel Festival and our New York City debut at the Frick Collection. Our full orchestra toured Germany in 2011. National broadcasts of live performances include Performance Today, Sunday Baroque, Harmonia and SymphonyCast. Our concert recordings are also distributed worldwide via the European Broadcast Union.
---
In recent seasons, Tempesta di Mare Director and co-founder Gwyn Roberts has been a featured recorder and traverso soloist with the Chamber Orchestra of Philadelphia, the Portland Baroque Orchestra, Hesperus, Recitar Cantando of Tokyo, and at the Kennedy Center in Washington DC. American Record Guidehas called her "a world-class virtuoso", and the Washington Post remarked, "with her sparkling technique and sensitive attention to musicality, she infused the music with operatic drama." Her recording of Veracini Recorder Sonatas earned a five star rating from BBC Music Magazine. As co-director of Philadelphia Baroque Orchestra Tempesta di Mare, she leads the ensemble in frequent performances from Oregon to Prague, records for Chandos (UK), and appears frequently on NPR's Performance Today. Other recordings include Deutsche Grammaphon, Dorian, Sony Classics, Vox, PolyGram, PGM, Newport Classics, and Radio France. Ms. Roberts is Director of Early Music at the University of Pennsylvania and is on faculty at Peabody Conservatory. She studied recorder with Marion Verbruggen and Leo Meilink and baroque flute with Marten Root at Utrecht Conservatory in the Netherlands.
---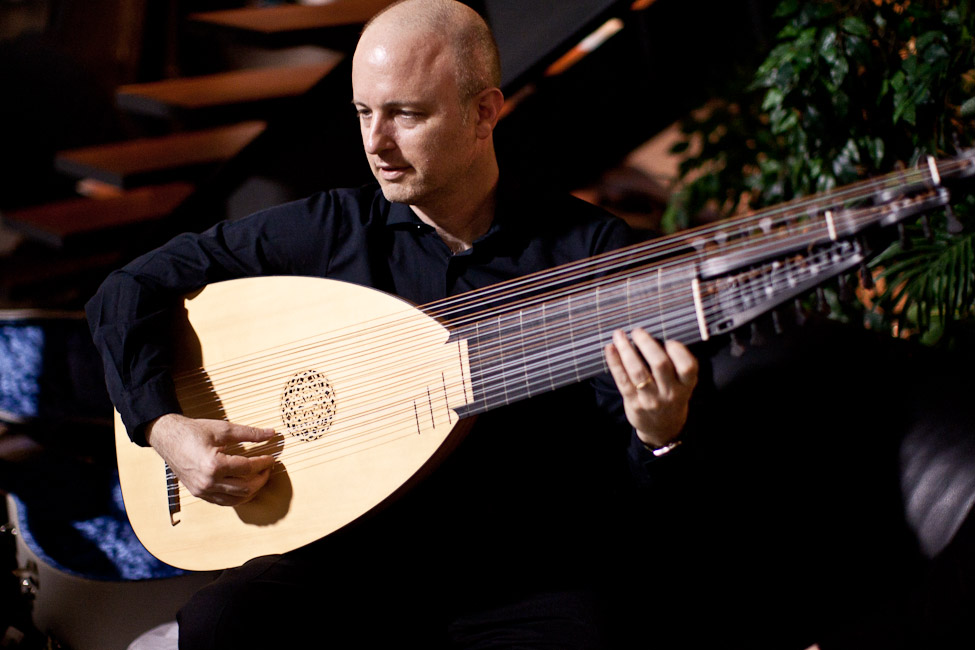 Lutenist and Tempesta di Mare Artistic Director and founder, Richard Stone has performed in solo recitals, music series and festivals worldwide. The New York Times called his playing "beautiful" and "lustrously melancholy," while the Washington Post described it as having "the energy of a rock solo and the craft of a classical cadenza." He recently completed a two-season nationwide solo tour of the Bach lute suites. Solo recordings include lute suites of Silvius Leopold Weiss, theorbo music by David Loeb and, most recently, the world premiere of the complete lute concerti of Weiss, performed with Tempesta di Mare. He is one of the most highly regarded baroque vocal accompanists in the United States and is in constant demand as a continuo player on lute, archlute and theorbo. Conducting credits include Monteverdi's Poppea, Steffani'sStabat Mater and Handel's Judas Maccabeus, which he led from the archlute and theorbo. Recording and broadcast credits include Chandos, Deutsche Grammophon, PolyGram, Lyrichord, Musical Heritage, NPR, the BBC and Czech Radio. Stone, who co-founded Tempesta di Mare in 1996, joined the faculty at the Peabody Conservatory in fall 2007. He studied lute with Patrick O'Brien at SUNY Purchase, and with Nigel North as a Fulbright Scholar at London's Guildhall School.
---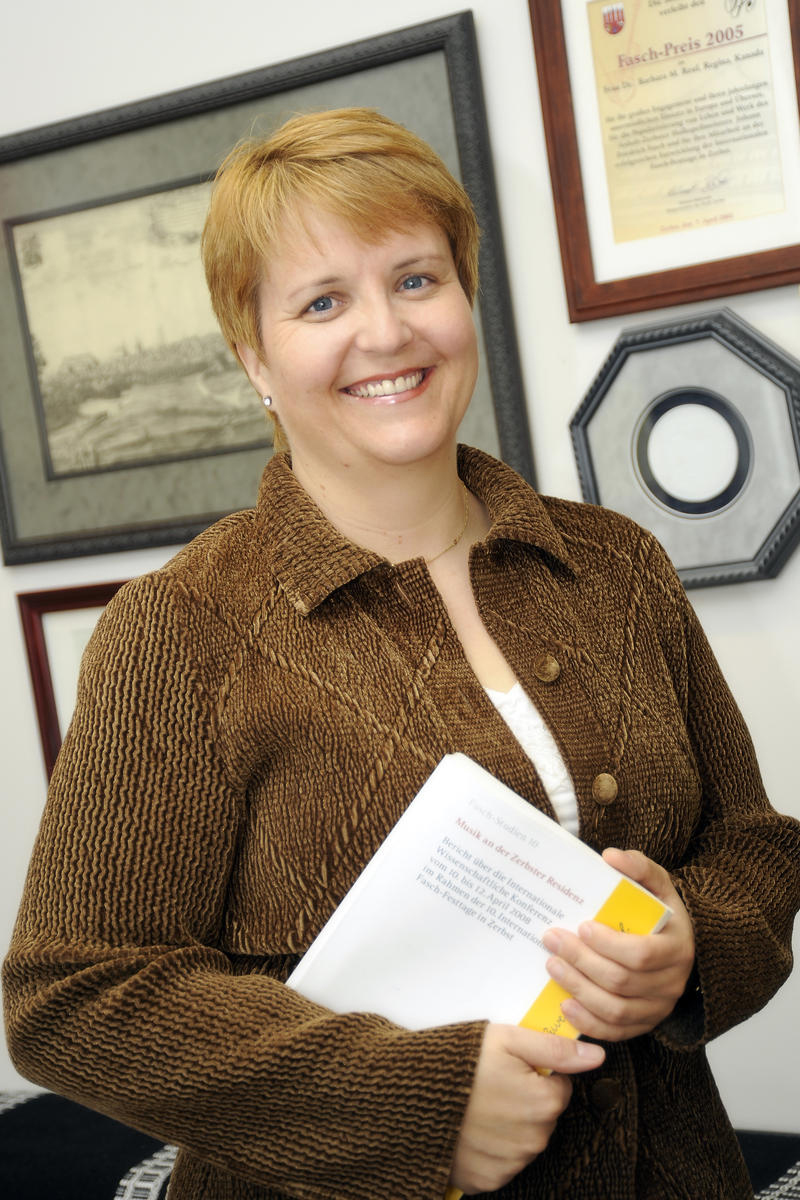 Dr Barbara Reul's main area of expertise is Baroque music, specifically musical life at the court of Anhalt-Zerbst, the German childhood home of Catherine the Great, and the life and works of Johann Friedrich Fasch (1688-1758), a contemporary of Bach and Handel. Dr Reul served as the president of the International Fasch Society based in Zerbst/Anhalt, Germany, from 2008 to 2011 and maintains its bi-lingual website. She has presented her research all over the world and published articles and edited books in both English and German, most recently Fasch –Vater und Sohn (Fasch – Father and Son), vol. 11 of the Fasch-Studien series (ortus, 2011). She has also served as the secretary-treasurer of the Pacific-Northwest chapter of the American Musicological Society since 2001. Dr Reul teaches a variety of music courses at Luther College; she received an "Inspiring Teaching Award" in 2004 prior to being mentioned as a "Popular Prof" in McLean's Magazine three years in a row. She is also the head organist and choir accompanist at Our Savior's Lutheran Church in Regina, has a twin sister in Victoria, B.C., and loves chocolate.
---
Brian Clark studied Music and Modern Languages at the University of St Andrews. In 1988, he organized three concerts at the Edinburgh Festival Fringe devoted to the music of Johann Friedrich Fasch, the tercentary of whose birth fell that year. This was the beginning of a long association with the composer's output, which has seen editions of vocal and instrumental music for various publishers, including his own company, Prima la musica! In 1997, Brian was awarded the Fasch Prize of Zerbst, the city where Fasch was Kapellmeister, in recognition of the work he had done to promote Fasch's music. Besides Fasch, Brian's interests include music in Dresden, Leipzig, Vienna, Venice and Rome in the second half of the 17th century, and Fasch's equally neglected contemporaries, Stölzel, and Erlebach. He has produced editions for ensembles such as The King's Consort, The English Concert, The Academy of Ancient Music, Tafelmusik, Yale Institute of Sacred Music, the Royal Opera House in Covent Garden, London, the Hans-Otto-Theater in Potsdam, and English National Opera. Nothing gives Brian greater pleasure than hearing the recordings that are the fruits of his (and his colleagues') labour and reading others' wonder that such marvellous music has lain undiscovered for so long.
---

Chandos Records was founded in 1979 and quickly established itself as one of the world's leading independent classical record labels. The multi-award-winning company produces, sells, markets and distributes its recordings from its offices and warehouse in the UK and is distributed worldwide. The company is renowned for its championship of rare and neglected repertoire and has received many accolades, including a Grammy and several Gramophone awards for the consistently fine quality of sound and performance. Through its busy recording schedule, it continues to add to its substantial catalog of over 2,500 recordings, and release about eight new discs each month.
Tempesta di Mare • 1034 Carpenter St • Philadelphia PA 19147 • 215-755-8776 • www.tempestadimare.org