An informal Show-Play-and-Tell with Glenda Goodman, Assistant Professor of Music, University of Pennsylvania, April James, Reading Room Coordinator, Kislak Center for Special Collections, Rare Books, and Manuscripts, and Liza Vick, Head, Otto E. Albrecht Music Library and Eugene Ormandy Music and Media Center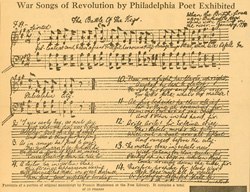 Curious about what colonial Philadelphians listen to? What they considered enlightening, entertaining and engaging? We'll use an informal show-and-tell or  "play-tell-play" approach focusing on what people listened to in Telemann's era (and expanding the boundaries a bit). This may include repertoire such as Moravian hymns, British comic opera, Francis Hopkinson, and even a jump into later periods to hear how the Philadelphia Orchestra performed Telemann under various conductors.
We'll continue the discussion in Lea Library with materials on display. Among the highlights are manuscripts of Francis Hopkinson, and annotated scores of Eugene Ormandy and Leopold Stokowski. An informal selection of published editions of Telemann will be on display in the Otto E. Albrecht Music Library from September 20-October 15, 2017 (Monday-Friday 9-5).