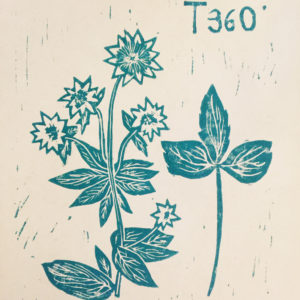 Make your own linoleum print using a variety of designs inspired by baroque Germany's favorite composer Georg Philipp Telemann, his music and his garden. You will also learn more about how Telemann used state-of-the-art technological and business strategies, coupled with his own ingenuity, to become the most successful music publisher in Germany. In addition to making prints to take home, you will have the opportunity to help us carve out a big poster design that will be available throughout the Telemann 360˚ festival from October 11th until the 15th. All materials will be provided.
The class will be held by Sam Mera, a Colombian native, who is an artist and arts educator based in Philadelphia. Sam studied illustration and printmaking at the University of the Arts and since graduating has spent her time exploring different media, including embroidery and book arts.  She has worked with museums throughout Philadelphia to expand the idea of arts education through interactive and arts-based theories and is currently working on her masters in museum exhibition, planning and design.
Location: Bartram's Garden Courtyard, Coach House and Barn
5400 Lindbergh Blvd.
,
Philadelphia
,
19143
United States
Click below to view on Google Maps