March 7: Purcell, Charpentier & ¡zarzuela!

Purcell, Charpentier & ¡zarzuela!

Orchestral music for spoken-word plays from 17th-century Europe
Tempesta di Mare | Philadelphia Baroque Orchestra
with mezzo-soprano Maren Montalbano

' …played with such energy and color that the wit, emotion, and drolleries that define French art were brought to pulsing life'
– Philadelphia Inquirer

New CD: Comédie & Tragédie, Vol I

Comédie & Tradédie, Vol. I

French orchestral music for the theater

Pre-release sale before the US release on February 24.

We are thrilled to introduce our latest CD on the Chandos label with orchestral suites from Lully's Le Bourgois Gentilhomme, Marias' Alcyone and Rebel's astonishing ballet Les Elements.

Artist Recital: Karina Schmitz plays Paganini

SALON MUSIC for violin and romantic guitar

Sonatas, Serenades and Nocturnes by Paganini, Matiegka, Carulli and Guiliani

Tempesta di Mare principal second violinist Karina Schmitz and lutenist Simon Martyn-Ellis explore the rich culture of performances that took place all over Europe in fine private soirees and salons in this exquisite evening of song, dance-tunes and virtuosic flare.

Artist recitals are curated and narrated by the musicians and followed by a reception.

French Spring: music from plays and coffee shops

A Parisian Spring in Philadelphia

What better way to fend off the winter blues but with a Spring of French music: from luscious viola da gamba sonatas by Marais, a homage to coffee, and Tempesta's own orchestral rediscoveries and music from spoken word plays. Mini-series of all four concerts on sale now, or just select the concerts of your choice.
New CD: release date 2/24/15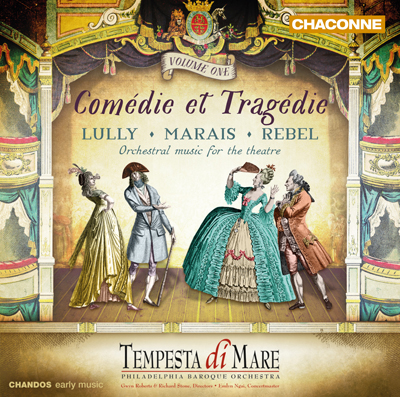 Mar 7: Purcell, Charpentier & ¡zarzuela!
Connect with Tempesta di Mare