June 6 & 7: Comédie et Tragédie

Comédie et Tragédie

Tempesta's glorious rediscoveries of music for the theater:
Rameau: Les Fêtes de Polymnie
Leclair: Scylla et Glaucus

At their Tempesta modern-time premieres, the Inquirer called these scores "a major revelation". Don't miss their repeat performance — a fitting close to our two-season long exploration of French music.

June 6, 8pm
June 7, 7pm
Gould Hall, Curtis Institute of Music
1616 Locust Street

New CD: Comédie & Tragédie, Vol I

Comédie & Tradédie, Vol. I

French orchestral music for the theater

Pre-release sale before the US release on February 24.

We are thrilled to introduce our latest CD on the Chandos label with orchestral suites from Lully's Le Bourgois Gentilhomme, Marias' Alcyone and Rebel's astonishing ballet Les Elements.

Parisian Spring: music from plays and coffee shops

A Parisian Spring in Philadelphia

What better way to fend off the winter blues but with a Spring of French music: from luscious viola da gamba sonatas by Marais, a homage to coffee, and Tempesta's own orchestral rediscoveries and music from spoken word plays. Mini-series of all four concerts on sale now, or just select the concerts of your choice.
New CD: C & T Volume I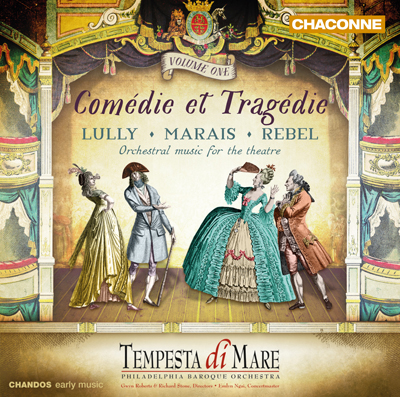 Help us record Volume II
Connect with Tempesta di Mare